It seems that my
previous post
has provoked fellow blogger Jewaira from Kuwait to write about me in her
story
. I wasn't going to write any further on this issue, but I would like to respond and clarify my position with a few points:
1) I am not a "reporter". I am just a person with an opinion, in this case only a suspicion, based on what I wrote in the post
below
. Actually, my entire knowledge of Kuwaiti affairs can be found in that post.
2)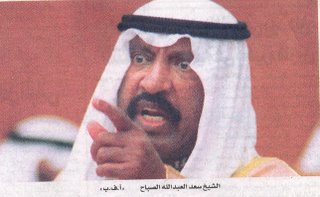 This does not appear to be a man suffering from Alzheimer's and incapable of uttering an oath to swear himself in as Emir, as
q8 says
.
3) If he
is
suffering from Alzheimer's disease, it does not make sense that a whole faction of the Kuwaiti royal family would back him as the new Emir... unless Alzheimer's in Kuwait is contagious.
From an outsider's point of view, it looks like a classic
coup d'etat
.
P.S.:4) Sheikh Jaber al-Sabah was himself gravely ill and made only few public appearances in the years before his death. Therefore am I wrong to assume that Sheikh Saad, now being in the same exact position afforded to the late Emir, is being discriminated against because of who he is?I believe I have now sufficiently made my case.